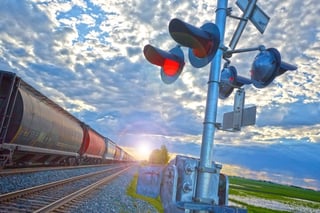 Rail sites present a number of safety challenges, from spotting and orientation to safe loading and unloading of rail cars. Developing and implementing fall prevention strategies that keep your employees safe is a challenge, but it's a necessary step in increasing throughput and efficiency at your site.
Implementing fall prevention strategies is critical in mitigating the risk of injury at your site. In 2015, there were 16,710 cases of workplace casualties (deaths and nonfatal injuries and illnesses) at rail sites, according to the Federal Railroad Administration Office of Safety Analysis. Adequate fall prevention strategies may have prevented many of these injuries and fatalities.
Additionally, failing to take proper rail safety precautions may lead to legal ramifications. Some examples include an employee suing post-injury, your company not meeting delivery deadlines for a client or OSHA compliance issues not being met.
Here are four fall prevention strategies to help you maintain a safer working environment for your employees:
1. Install Safety Equipment
Installing rail safety equipment is an important step in reducing the risk of injury at your site. However, because safety equipment isn't one-size-fits-all, it's important to work with a trusted vendor that can help you install custom equipment for your site's needs. Common safety solutions include rail safety cages, loading racks and gangways.
When designing a rail safety solution for your site, some factors to take into consideration include:
The operator's tasks and environment while working on rail cars
Your specific access needs during loading and unloading
Your internal safety standards as well as industry best practices
How your site layout impacts the safety equipment you use
Power limitations for electric, pneumatic and hydraulic equipment
2. Implement Safety Training
Although rail safety solutions are important, your equipment isn't effective without the right safety training. To help protect your employees, implement safety procedures for loading and unloading.
Here are two areas to cover when implementing safety training for your workers:

Product Education
After installing rail safety solutions, be sure to educate your team on how to safely use the equipment. Include information on any challenges your team may face and how to safely overcome them.
As part of your safety training, it's important to remind your employees to be aware of their environment. The actions that they take — or don't take — have an effect on safety in the workplace. Your employees are their own champion as well as their worst enemy when it comes to workplace safety.
Fall Protection
Many sites don't provide fall protection training. Make sure your team is trained to wear hard hats and to always use any fall protection and prevention equipment you have in place. When used properly, it may mean the difference between life and death.
3. Use Correct Spotting And Positioning
Proper rail car spotting is an important step in fall prevention. Best practices for safe and effective rail car spotting vary based on whether your cars are coupled or uncoupled.
Ideally, rail cars should be uncoupled because it limits the variation of what you will encounter during spotting. Some important factors to take into consideration when spotting a rail car include:
Easy access to the rail car without having to climb over a railing
Location of where you will be loading or unloading
Opening the dome or hatch on the rail car
Interaction with your loading apparatus, such as a hose or loading arm
Using a human spotter also is beneficial. Even with all of the right equipment, your employees are still at risk for injury if a rail car is mis-spotted. Using a human spotter along with rail safety equipment may help lower the risk of injury during loading and unloading.
4. Understand The Conditions Of Your Site
Another aspect of fall prevention is to pay attention to the conditions of your site, such as operations setup, weather conditions and geography. Train your operators on the logistics and flow of your site and appropriate procedures for working in inclement weather. This information should be communicated to your employees as well as your vendors.
There's no way to prevent rail safety challenges altogether, but by following the strategies above, you'll take important steps to improve safety at your site. For advice on how to bring all of these elements together, consider working with a vendor that specializes in comprehensive rail safety solutions.
To learn more about fall prevention strategies and improving rail safety, watch this free webinar from Carbis Solutions.