As the innovator of unique safety solutions across a host of industries, Carbis Solutions is well versed in tackling complex safety challenges. A construction company was doing routine maintenance work on railroad trestles and found that a steep embankment was creating a safety hazard for workers.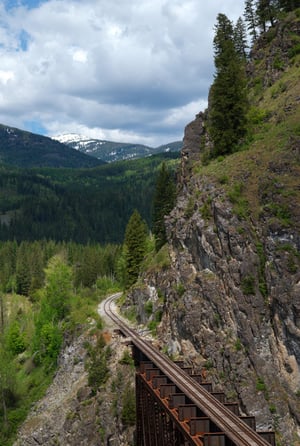 They came to Carbis seeking a solution that would allow workers to safely move up or down the embankment as they performed their work. To further complicate the challenge, the embankment and angle of the slope varied in height. In addition, the company needed to be able to move heavy equipment from one location to another along the embankment, requiring a flexible solution.
The Carbis team assessed the situation and came up with a custom solution, an Embankment Ladder. The ladder's treads can be articulated to a flat position, providing a safer path up and down the embankment. The self-leveling stair is highly versatile and can be used on very steep or very shallow terrain.
This patented solution not only solved their issue but is becoming more widely adopted among companies that encounter embankments in railroad construction, bridge maintenance, highway construction, and other similar applications.
"With a heritage of creating custom ladder-related solutions, beginning in 1930 when we created aluminum fire ladders, Carbis Solutions is proud to have helped this company successfully resolve their issue and keep their workers safer," said Carbis President Shawn Mizell.