Does Your Current System Protect Workers?
Loading and unloading railcars, trucks, and tanks is extremely challenging and can expose your workers to a host of serious and life-threatening hazards.
Keeping workers safe as they navigate the tops of trucks, tanks, and railcars—of varying types and sizes—during loading and unloading is the number one priority for ensuring a safe environment.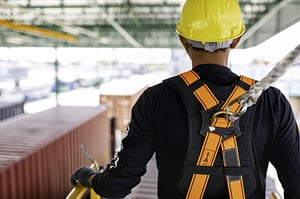 Environmental and operational considerations make each location and application unique, with its own set of challenges that must be met. Because each situation is specific to the type of materials being loaded and unloaded, the type of equipment being used, and the throughput required, a well-designed fall protection solution is imperative to keep workers safer.
How Safe Is Your Fall Protection System?
How safe is your current fall protection system? To protect workers from access hazards and keep operations running smoothly, it is essential to have up-to-date equipment that meets OSHA standards and workers who are thoroughly trained on current operating and safety procedures.
Some situations require the flexibility of portable truck, tank, and railcar access to keep workers safer and throughput flowing. If you're looking to protect your workers but unsure which type of fall protection system best meets your specific operational and budget requirements, we can help. Carbis Solutions creates custom portable access solutions that take into account the requirements and challenges of your location and goals.
Some variables to consider when weighing different portable access solutions are:
What type of materials are to be loaded and unloaded?
How many access points need to be accommodated?
Does your current system adequately protect workers?
Is remote access needed?
Do you have a backup plan if a loading area becomes in-operable?
Once you have an idea of what is required, we work with you to create the right solution for your situation. No matter what your application—loading, sampling, or transloading railcars, hopper trucks, or tanks—our portable truck and railcar access systems provide safe access to the tops of trucks, tanks, and railcars of all types and sizes.
Create a Safer Workplace
In addition to the having the right portable access system in place, it is important to ensure workers are properly trained and that OSHA standards are adhered to. OSHA's January 2017 standards cited that most injuries in the workplace result from a lack of initial and ongoing training and oversight of the processes.
Creating safer work environments starts with an overall safety assessment to determine what, if any, hazards may exist. This simple assessment may mean the difference between a workplace where dangerous conditions can lead to a life-threatening incident, or a workplace made safer with:
U

p-to-date safety procedures

Properly maintained equipment

Regular worker training
Carbis Solutions can help you determine if your current railcar, tank, and truck loading and unloading safety procedures are meeting your safety goals. Our comprehensive safety solutions will help you meet your mobile access challenges and maintain efficient throughput.
Contact a loading rack expert to discuss your current system needs. Carbis has been providing fall protection solutions for more than 40 years and we look forward to helping you on your next project.