Assessing Your Workplace for Overall Safety
Keeping your workers safe while loading and unloading trucks is one of those things that can keep you up at night—or at least, the worry of what could happen if unsafe conditions are not addressed.
Working at heights presents a wide range of potential safety hazards. Improperly secured materials or equipment can fall and injure workers. Fast-paced environments that require moving materials quickly and efficiently can put workers at risk of serious injury or death from falling.
Creating a safe workplace starts with an overall safety assessment to determine if you are doing everything you can to keep workers safer. Over time, loading patterns, vehicles or equipment, and personnel may change, which can impact operations and the safety of workers. Once you know where you are at, you can update your system or build the right fall protection system for your specific environment and operation.
The Height of Worker Safety
Keeping workers safe while working at heights starts with a well-designed elevated truck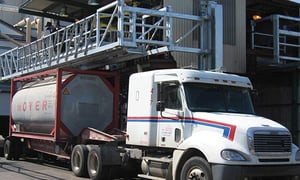 loading platform. Elevated loading platforms provide safe, flexible access to trucks of different heights and lengths for a variety of purposes, from loading to sampling to venting. As part of a comprehensive fall protection system, elevated truck loading platforms not only help keep workers safer, they keep throughput flowing smoothly and efficiently.
When building a loading platform that is right for your environment, flexibility is key. Some things to consider include:
The type of, and how many, product loading lines that need to be processed
Type and height of trucks to be serviced
Space constraints
Traffic patterns and flow
Optimization of throughput
Adherence to OSHA standards
Safe, Easy Access
Carbis' elevating platforms provide a great deal of flexibility, and can be used in conjunction with other product loading lines to enhance operational efficiency, protect workers, and improve throughput. Platforms run the full length of a truck and a full-length floor provides workers with a flat, non-slip surface to walk on. An additional benefit is that there is no need to tie off with a harness, which can be cumbersome and potentially cause additional safety issues.
Our elevated truck loading platforms are easily integrated into your existing system or can function as an independent structure. They feature:
42″ high handrail system—including handrail, mid rail, and toe board—to protect the operator for a full 360 degrees
Padded lower edge to help prevent vehicle damage
Flip-up floor panels for full vehicle access to eliminate spotting problems
Single-spot loading to service multiple vehicles, saving time and money
Avoid Costly STFs
An up-to-date truck loading platform is one component of a comprehensive workplace safety program. Keeping workers safe while working at heights requires having the right equipment in place, periodic safety reviews, and ongoing worker training. It is important to ensure equipment has been properly maintained over time and that all workers have been instructed on how to correctly operate and maintain the equipment.
Over time, loading patterns, personnel, or the type of materials being loaded and unloaded may change. These changes can have a dramatic impact on operations and put workers at risk of injury.
Slips, trips, and falls (STFs) are costly and can result in lost productivity, increased insurance premiums, and the need to train replacement workers. STFs account for 12 to 15 percent of all workers' compensation costs, and cost employers approximately $40,000 per incident.[i]
Carbis can help you assess your current truck loading and unloading environment and provide recommendations for how to reduce risk and create a safer workplace. We have installed elevated truck loading platforms at client sites worldwide for safer access, better throughput, enhanced fulfillment rates, and more satisfied customers. Click here for a comprehensive discussion of our loading platform safety solutions.
Contact one of our safety experts to discuss your current truck loading platform needs. Carbis has been providing fall protection solutions for more than 40 years and we look forward to helping you on your next project.
[i] Bureau of Labor Statistics (BLS) and Occupational Health and Safety Administration