Protect Workers With a 360° Approach to Safety
Keeping your workers safe requires a proactive approach to fall protection. But figuring out the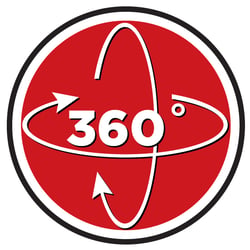 best solution to your safety challenges doesn't have to be an overwhelming task. A comprehensive fall protection plan—that meets more stringent OSHA standards and helps keep workers safer—is attainable when tackled in phases and tailored to meet your specific needs.
Creating a safer environment starts with assessing your current workplace safety. A few basic questions to ask include:
Have your parameters changed since safety equipment was installed?
Are workers trained on the latest safety and operating procedures?
Does your safety plan meet OSHA safety standards?
Is your equipment inspected annually?
Because each worksite is unique—difficult terrains, special product handling or spotting requirements, varying traffic or loading patterns—it is important to fully understand what your current needs are and how best to address any potential risks or hazards.
Creating a Safer Workplace
Making your workplace safer requires a comprehensive 360° approach that includes installing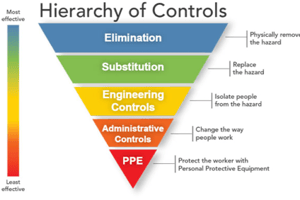 the right equipment, regular maintenance, well-trained workers, and up-to-date operating and safety procedures.
There is a wide range of responses (figure 1) when it comes to addressing safety hazards in the workplace, from providing personal protective equipment to eliminating the hazard entirely. Personal protective equipment is the least effective option and is often deficient at protecting workers. A full body harness, for example, can lead to Harness Hang Syndrome and cause injury or death if a worker falls and is suspended. Within minutes a suspended worker can faint; if the person remains vertical, oxygen is not getting to the brain and death is possible.
Ideally you do everything you can to reduce or eliminate hazards by investing in a complete fall protection system and training to create a safer environment. Creating a safe environment starts with the right equipment for the job. A loading platform safety system— designed specifically to meet your safety goals, operational requirements, and environmental conditions—provides workers with the best fall protection possible.
There are many factors and options to consider when equipping a loading area with comprehensive fall protection solutions. Fortunately, loading platforms are highly customizable to meet the specific environmental, operational, loading/unloading, and throughput requirements of your facility.
Solutions for Your Environment
Working from heights presents its own set of unique challenges, whether workers are accessing trucks, ISO containers, or railcars. Loading platform safety solutions are available for a wide range of environments and configurations—from single- to multi-hatch—with a wide array of accessories, such as pipe racks and catwalks, that round out a complete safety system.
Structural steel pipe racks provide heavy-duty stability, and support pipes, power cables, and instrument trays in a variety of industrial settings. Catwalks provide fall protection, help to increase efficiency, and keep costs down.
ISO Container Loading Platforms
ISO containers are widely used today, especially for handling chemical and food-related products. ISO container come in a wide variety of configurations, and loading and unloading hazardous materials can be especially challenging. Factors to consider include:
How site layout impacts traffic flow and the safety equipment in use
Power limitations for electric, pneumatic, and hydraulic equipment
Climate and environmental considerations
ISO container safety platforms enable workers to access multiple configurations with just one piece of equipment and keeps them safer by eliminating the need to stand directly on the truck.
Unit Train Loading Platforms
The right unit train loading platform system provides peace-of-mine, knowing that workers are protected from unnecessary falls that can cause injury or death. According to OSHA, after transportation-related deaths, falls are the number one cause of worker fatalities.
From simple gantry systems to complete package—including cages, loading arms, and spill containment—unit train loading platform systems integrate seamlessly into your operations and can accommodate both coupled and uncoupled rail cars to maximize flexibility.
Railcar hopper handrail solutions and railcar enclosures help safeguard workers when working on top of railcars by ensuring safe access to hatches.
Single/Multiple Hatch Truck Loading Platforms
Flexibility is the key to designing a truck loading solution that accommodates the wide variety of truck shapes, sizes, and configurations. Truck loading platforms are available with single hatch truck loading or multiple hatch truck racks, enabling easy sampling from one truck or transloading between multiple vehicles. Platforms can be configured to support gangways and cages, to keep your workers safer and throughput flowing.
We're Here for You: Comprehensive Fall Protection Solutions to Meet Your Needs
Carbis has comprehensive fall protection solutions to meet your needs. We can help you develop a proactive, 360° approach to fall protection that works for your environment, specific needs, and budget. Our team simplifies the process of determining the best solution for your safety challenges. Having implemented a wide range of solutions at hundreds of locations worldwide, we've encountered just about every challenge imaginable.
We know how to configure the best possible solutions to meet your operational goals and budget requirements. Developing a comprehensive loading platform fall protection system doesn't need to be an overwhelming task. With our know-how and experience, our team can guide you through the process and figure out a cost-effective solution that will keep your workers safer and throughput flowing.