Keep Operations Rolling and Employees Safer
As the coronavirus (COVID-19) situation evolves, manufacturers face any number of challenges in trying to adhere to sheltering in place and safety requirements while continuing to meet demand. Companies have a lot on their plates right now. They are struggling to keep the food, fuel, chemicals, and other materials essential to our well-being flowing under difficult circumstances.
Companies are instituting a variety of measures—from providing specialized PPE or high-efficiency air filters to alternating or adding shifts—in an effort to protect workers from COVID-19 as operations continue. As important as it is to keep production rolling, it is equally important to ensure workplace safety. Installing or maintaining fall protection equipment during this time is especially challenging when your safety vendor can't come onsite to help with installation.
The key to successfully installing fall protection safety equipment is accurate measurement of the center line. As simple as this may sound, it is where companies often get into trouble and end up with equipment that doesn't fit the application requirements.
Three Steps to Get the Right Measurements
1. Establish the Center Line.
Your design standard can be anything it needs to be, but establishing the center line is critical. These measurements are the basis of the drawings we send back to you for sign-off.
When you measure, always begin from the center of the vehicle to the face of what you are mounting the access gangway on (see Figure 1). Ideally, you would position a vehicle in the loading area so that the measurement is spot on. If you are unable to position a vehicle in your facility due to the current restrictions, then you should measure where the truck(s) should line up, possibly marked by a stripe on the floor.
For railcars, it is a bit easier, as the tracks are stationary. Measure from the center of the rail to the center of mounting. If you have a long platform with several railcars, you will need to measure each access spot.
Figure 1. Measuring the Center Line.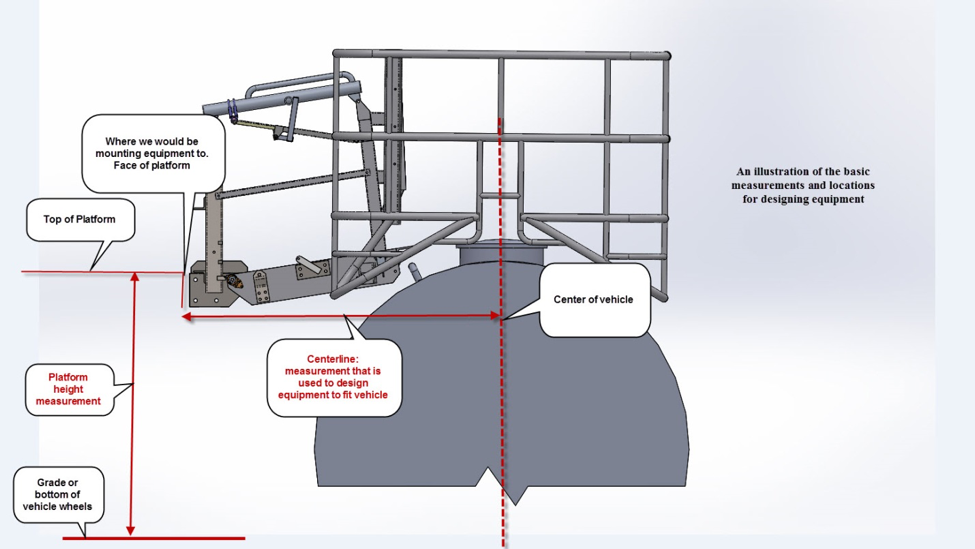 2. Determine Platform Height.
While important, platform height is not as critical as the center line measurement. Measure platform height from the bottom of the vehicle wheels to the top of where your worker will be standing and loading/unloading.
Not too long ago, OSHA changed the platform height standard. Truck platforms are now generally in the 10-12 feet range and hopper cars are 14-15 feet. Ramps are self-leveling, so if your measurements are off by a few inches, the ramp will compensate for it.
3. Identify Obstructions.
Obstructions are one of the trickiest things to get a handle on. When our team does a site visit, they can easily identify all of the potential obstructions—overhead walkways, piping, floor drains, etc.—that can complicate installation.
With the current COVID-19 situation, site visits are not possible. The next best thing is to have you send us photos or to do a virtual walkthrough with us. Once we have seen your facility and the area where the safety equipment will be installed, we can guide you through next steps in making sure all obstructions are identified.
We're Here to Help
While this is certainly a challenging time for all of us, Carbis is here to help. Our team is available to guide you through any installation challenges or to answer any questions about how to keep your workers safer. In addition to installation, we can help with maintenance questions as well, and are available via phone, email, or a virtual visit to help you maintain your safety equipment.