REDI-RACK® Loading Platforms
When it comes to shipping and receiving here in the US, workplace safety is the most important thing to keep in mind. Continually improving the safety of the workplace ensures employees can safely and efficiently operate to the best of their abilities. Not only that, but it also improves morale and speed as well. One of the best ways to improve safety for your employees working at the loading sites is by adding a REDI-RACK Loading Platform to your workspace.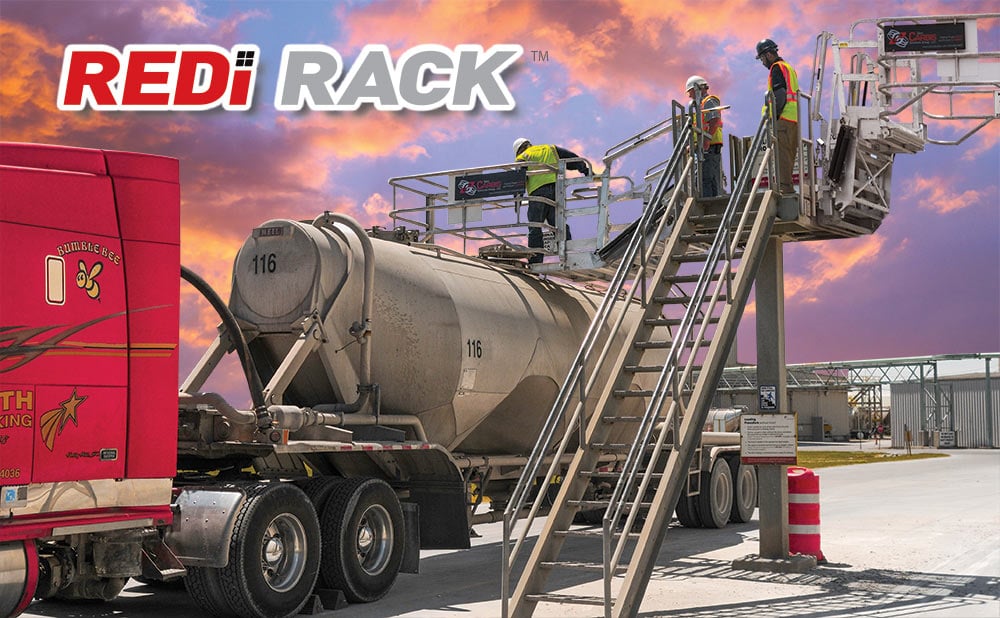 What is the REDI-RACK Loading Platform?
Accessing the tops of trucks and railcars can be a dangerous job if the right safety measures haven't been taken. Slipping and falling from any height can result in irreparable harm and even death; that's why any and all safety measures must be taken. The REDI-RACK Loading Platform, from Sam Carbis Solutions Group, is an invaluable addition to any loading and unloading site.
Top Benefits of a Redi-Rack Loading Platform:
Safer work environment

Easy access to the tops of trucks, railcars, and liquid tank cars

Customizations make it perfect for most loading sites

Boost efficiency, speed, and overall morale for your team

3 Reasons to Add the REDI-RACK Loading Platform to Your Workspace
The REDI-RACK Loading Platform Boosts Workplace Safety
According to the National Institute for Occupational Safety and Health (NIOSH), over 900,000 people were injured at work in 2018, and about a third of those were the result of a slip, trip, or fall. With the REDI-RACK, preventing slips, trips, and falls becomes a whole lot easier.
The guardrails, slip-resistant surface, and additional safety features, like canopies and SAF-T cages, provide employees with a much safer environment to work in. The REDI-RACK makes it much easier to safely access the tops of trucks, railcars, and liquid tank cars. This boosted safety allows your team to operate at peak efficiency while reducing their risk of injury.
Safety Features for the REDI-RACK Loading Platform Include:
The galvanized steel construction material is sturdy and tough

All walking surfaces are slip-resistant

Protective guardrails across the entire structure help prevent falling

Optional swing gates to prevent falls at and around entrances and openings

Available lighting, grounding, and traffic control systems

And much more
REDI-RACK Offers a Customizable Safety Solution
One of the best parts about investing in the REDI-RACK is how customizable it is. A team of expert engineers from Sam Carbis Solutions Group design each loading platform based on the individual cases. This ensures the perfect safety solution for everyone. No matter if you're a large organization with multiple loading sites or a small independent business with a single loading site, the REDI-RACK is the ideal fall safety solution for you.
REDI-RACK can be customized in countless ways. With single and double-sided options, gangways of multiple lengths, and the ability to be built at almost any height, because of the pedestal support, this safety structure can fit pretty much everywhere. On top of that, the REDI-RACK Loading Platform has an incredibly modest footprint, making it even easier to add to any workspace.
Additional REDI-RACK Loading Platform Customizations Include:
Canopies

Saf-T cages

Loading arms and supports

Lighting systems

Grounding systems

Entryway swing gates

Construction material: aluminum, fiberglass, or steel (primed mill finished, painted, stainless, or galvanized)
Getting a REDI-RACK Loading Platform is Quick and Easy
Finally, once you decide that a REDI-RACK is right for your workspace, it's incredibly easy and quick to get. Contacting a Loading Rack Expert at Sam Carbis Solutions Group starts the process by putting you in contact with someone who can help advise you on the best custom safety solutions for you.
After deciding on the custom design for your REDI-RACK, opt for the quick shipment option for faster delivery. The REDI-RACK Loading Platform is also easy to set up, only requiring a team of three over the course of a few hours. That means you can avoid any significant downtime.
Invest in Safety with the REDI-RACK Loading Platform
Investing in safety for employees in the workplace is essential. With the REDI-RACK Loading Platform, from the experts at Sam Carbis Solutions Group, you're ensured a custom fall safety solution for your loading sites. The added safety, limitless customization, and easiness of obtaining make the REDI-RACK perfect for just about every loading site. For additional safety solutions, check out the wide array of premium products from Sam Carbis Solutions Group. Make sure you're taking advantage of every safety opportunity with our Loading Rack Safety Assessment too.
For more information on safety products and services, give us a call at 1-800-948-7750 or send a message to safetyfirst@carbissolutions.com. Be sure to find us on Facebook or Twitter and take a look at other Workplace Safety Blog posts for up to date news, tips, and offerings from the experts at Sam Carbis Solutions Group.