4 Questions and 3 Answers to Help with Your Marine Safety
Ensuring worker safety can be challenging in any environment. Marine operations present a unique set of challenges, with constant motion, changing tides, and varying vessel sizes and configurations. Whether accessing ships from a dock or loading chemical or petroleum barges, workers must deal with a lot of moving parts, heavy equipment, and changing weather conditions.
Potential hazards can lead to a dangerous situation, such as a worker or crew member falling—with the risk of drowning, being carried away by the current, or becoming trapped between the dock and the ship. In addition to causing tragic and unnecessary suffering, accidents are costly and can result in reduced productivity, workers' compensation costs, and OSHA fines.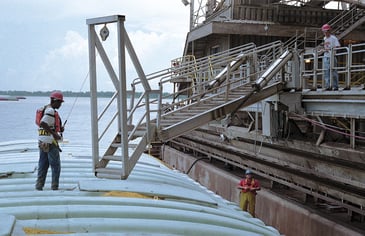 Protecting workers requires a proactive approach to marine safety. A comprehensive marine safety solution, tailored to your specific operations and work environment, is essential to keeping workers safer and throughput flowing. Marine workplace safety begins with an assessment of current factors, including:
What are the environmental factors impacting safety—changing tides, climate, product weight, different vessel sizes?
Are there any variances in vessel draft from unloaded to loaded?
Is limited dock and/or vessel space impacting the efficiency of safety equipment?
Are there any power limitations, such as electric, pneumatic, or hydraulic equipment?
Our marine access specialists can assess your needs and help design a marine access solution to meet the specific requirements of your environment—such as custom fitting to docks or specialized equipment that adjusts to tide and barge movement variations.
Depending upon your situation, your solution may include:
Ship Tower: Adjustable to different heights to compensate for changing tides and equipment variations, ship towers enable precise gangway access.
Barge Gangway: Gangways and handrails provide secure access and can be configured to accommodate variations in barge equipment and changing environmental conditions.
Maine Ladder: The innovator of the first aluminum fire ladder, Carbis designed this open-truss marine ladder to reduce weight and wind resistance.
Our rugged, durable marine safety solutions are designed to withstand harsh conditions, and protect your workers, facilities, and products. Contact a marine safety specialist to discuss your current marine safety challenges and goals.