Ask These 6 Questions to Assess Your Current Situation
Loading and unloading trucks is a hazardous activity that presents significant safety and efficiency challenges. There are a lot of moving parts, with trucks coming and going, and workers moving quickly to load and unload product to keep throughput flowing.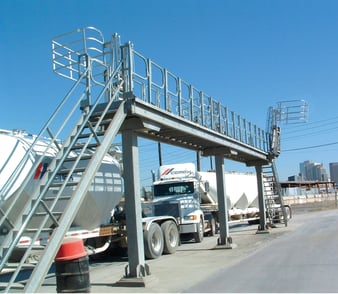 Over time, loading area logistics evolve as new demands, different types of trucks, and changing loading patterns come into play. What may have worked in the past suddenly becomes obsolete, and existing truck loading racks and safety equipment may no longer be effective.
6 Top Considerations When Assessing Truck Loading Rack Systems
Because each loading environment is unique—with its own set of challenges—it's important to routinely assess and evaluate your:
Truck loading requirements
Safety equipment
Fall protection goals
As a guideline when doing do, there are many questions to consider. Here are 6 top ones to start with:
Are there any special handling requirements for your product?
What are the specific access needs for each loading location?
Do you have the proper equipment to correctly spot each truck?
Have changes in truck size or type, traffic flow, or site layout impacted operations?
Has your safety plan been updated to meet changing OSHA standards?
Do you have any power limitations, e.g., electric, pneumatic, or hydraulic equipment?
Operational or environmental changes can lead to unsafe truck spotting and increase the risk of falls and injury, which can be costly. Medical and workers' compensation expenditures for fall-related injuries cost U.S. employers approximately $70 billion annually, according to the National Safety Council.
Ensuring you have the correct truck loading rack and supporting safety equipment—and that your employees are properly trained in the latest safety procedures—goes a long way towards keeping workers safer and protecting your company's bottom line.
Carbis Solutions can help you determine if your current truck loading rack and safety procedures are meeting your safety goals. Our comprehensive truck safety solutions, tailored to your needs, will help you meet your truck access challenges and maintain efficient throughput.
Contact a loading rack expert to discuss your current system needs. Carbis has been providing fall protection solutions for more than 40 years and we look forward to helping you on your next project.