4 Factors to Consider about Your Current Loading Rack
The ability to safely load and unload materials is a must in truck and railcar environments. Unsafe conditions can lead to costly injuries that negatively impact the bottom line. Medical and workers' compensation expenditures for fall-related injuries cost U.S. employers approximately $70 billion annually.[i] An up-to-date loading rack system can help keep workers safer and operations running smoothly.
4 Factors for Updating Your Loading Rack
When is the right time to update your loading rack? Loading racks don't have a "shelf life," so you have to consider a variety of factors when deciding if it's time to replace your current system. Factors to consider include:
How old is the loading rack?
Have loading patterns, equipment, or access requirements changed?
Are employees properly trained on safety procedures? Do they have access to documentation?
Are workers aware of what the equipment was originally designed to do?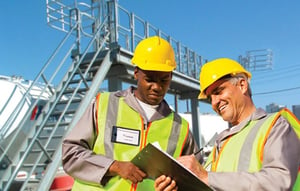 Over time, operational and environmental factors can change. A loading rack system designed to meet safety goals 20 years ago might not provide adequate protection today. Often, the original specification a loading rack was built to accommodate has changed or the documentation for proper operating procedures is long gone. At a minimum, it's time to evaluate your loading rack to make sure it is doing the important job of keeping workers safer and meeting OSHA standards.
The Right Loading Rack Helps …
Keeping outdated loading rack equipment on the job can result in significant losses for your company—from injuries to lawsuits to downtime. When your company has the right loading rack solution in place, it will help:
Meet your safety goals
Keep workers safer
Ensure throughput is efficient
An up-to-date loading rack system offers many advantages, helping your company to:
Reduce the potential for costly falls and injuries
Protect workers, increase productivity, and throughput
Address logistical challenges arising from new equipment, changing loading patterns, or access requirements
Ensure adherence to OSHA regulations
Carbis can consult with you to assess your company's current fall prevention system and provide recommendations for any equipment upgrades or safety training that may be needed. Our team guides you throughout the entire process, and we provide ongoing support—such as operator training, re-certification, and safety audits—to help keep your workers safer and throughput flowing.
[i] National Safety Council.