I Just Want a New Gangway
Customers often come to us with a "simple" request: a new gangway, loading arm, or safety platform, for example. Safety involves many factors, so rather than merely taking payment and shipping out a product, we often ask a lot of questions. By learning more about how the product will be used, we can ensure that our customers get the right equipment in place to keep them operating at maximum efficiency.
As Long As it Does the Job, Right?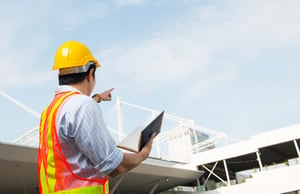 Most of us have, at some point, used the wrong tool for the job. For example, butter knives seem to be the universal substitute for screwdrivers. Unfortunately, the price of using the wrong tool for the job at work can cost a lot more than just a drawer full of bent cutlery.
Making sure you have the right tool is our job. The Carbis team asks the tough—and vital—questions:
Have loading patterns changed?
Has equipment been maintained regularly?
Have employees been properly trained?
On the surface, it may seem that ordering an updated piece of equipment is the ticket to keeping employees safer. But over time, a lot of things can change that impact how effective that equipment may be. Newer employees may not have been trained on the proper handling and operation of equipment. Loading patterns may have changed, so that vehicles are not being safely spotted. Older equipment, especially that has not been properly maintained, may not align with newer equipment, creating new safety concerns.
Protecting Employees and the Bottom Line
Carbis is dedicated to helping customers identify the right safety solution to protect their employees and keep throughput flowing. Our goal is not simply to sell equipment, but to ask the right questions to come up with a solution that makes sense and will achieve our customers' safety and throughput goals.
While customers may want a quick solution, we invest time up front to understand what they need to accomplish. We recently worked with a chemical company to create an effective fall protection solution. They first approached us wanting to buy a railcar gangway and cage. However, we knew they had recently changed their corporate standards, which now required such systems to eliminate the >19" gap under the crash box rails.
We could have simply sold them the equipment as requested. But upon further discussion, we discovered that their HS&E department was already replacing the system they wanted to buy with a newer, safer system at its other locations. By advising them to wait until the entire system had been updated, Carbis helped the company avoid spending money on a replacement equipment for an outdated system.
The Right Solution Saves Time and Money
In the end, by taking the time to do it right and letting Carbis design a comprehensive approach, the company saved time and money, and avoided any potential safety risks that implementing a partial solution may have caused. Just as companies worldwide have entrusted Carbis with their fall protection programs, the company relied upon our extensive experience to implement a highly effective solution that met their safety and budgetary goals.
Take the Time to Make it Safe!
Carbis takes the time to hear exactly what challenges you are facing so we can work with our design team to create the right solutions for you. Check out this video of a plant manager who reveals how Carbis helped make his truck stop safer. It all started for him with our Safety Assessment.
Does your organization have a "safety culture?" This means focusing on overall workplace safety, and not just from a compliance mindset. Carbis partners with you as your solutions provider—from budgetary idea through design implementation, and beyond. We'd love to discuss the safety solutions that are right for you and your employees. Schedule your Safety Assessment today!