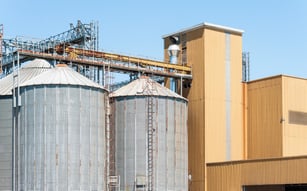 Your throughput depends on your ability to efficiently load and unload products at your food and beverage facility.

But without the proper safety equipment, these tasks become incredibly dangerous for your employees, and even the most experienced workers could be injured or killed.

Many companies fail to provide effective safety strategies and fall protection until a fatal fall occurs at their site. Although finding ways to reduce the risk of injuries is a constant challenge, it's an important step in increasing safety and maximizing your bottom line.

Learn more about safe access solutions for food and beverage facilities along with the importance of safety training for your employees.

Safe Access Solutions For Your Food And Beverage Facility

Fall prevention equipment for food and beverage facilities is similar to that in other industries. When considering safety equipment for your facility, it's important to work with a trusted vendor that can assess your facility and provide recommendations based on your needs and specifications.

However, the requirements needed to meet sanitation general practices are unique to food and beverage facilities. Each company has specific sanitary standards that must be considered when installing safety equipment.

Common safe access solutions for food and beverage facilities include:






How To Properly Train Your Employees
Installing safety equipment is only the first step in working to prevent falls in your food and beverage facility. Training your employees on proper fall prevention is critical to improving safety, reducing the risk of injury and increasing throughput.

When conducting safety training for your employees, here are three important areas to cover:

1. Product-Specific Training
The products transported through your food and beverage facility often come in different shapes and sizes. It's important to educate your employees on proper loading and unloading procedures for all products. This helps prevent spills or leaks, which may cause slips, trips and falls.

2. Fall Protection
Many sites don't provide fall protection training for their employees, but it's an important step in working to reduce injuries. Make sure your workers are trained to wear proper safety attire, such as hard hats secured with chin straps, and to use the fall protection and prevention equipment you have in place.

3. Site Conditions
Another important aspect of fall prevention is for your employees to understand the physical conditions of your work site. This includes the physical parameters and actual processes used at your loading and unloading site.

Train your operators on the logistics and flow of your site as well as the proper safety procedures for working in different weather conditions. This information should be communicated to your employees and your vendors.

Take a proactive approach to minimizing the risk of injuries and deaths at your food and beverage facility by installing safety equipment and implementing proper fall prevention measures.

Learn how to keep your workplace moving efficiently while meeting corporate and OSHA standards. Download this free industry guide from Carbis Solutions.